Mekong Delta has many rivers and canals so it is reason why Mekong Delta has many different kind of seafood. Therefore, the famous food in Mekong delta is often related to seafood material. Lau mam is well-known food with the mixture of seafood, vegetable and special sauce.
Hotpot with macerated fish originated in Can Tho province which is considered as a place of "white rice and clean water". Lau mam is at first place in the list of specialty foods in Mekong Delta. The main ingredient to make this dish is macerated siamese mud carp or artificial fish from Chau Doc or An Giang provinces. The broth is cooked from coconut water, pork bone and macerated fishes.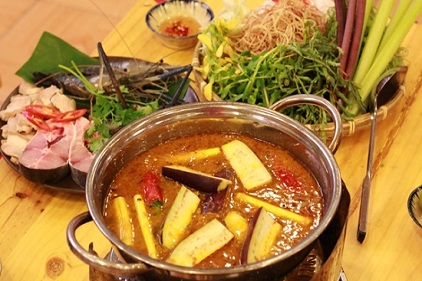 The broth is seasoned with sugar, spices; a little of coconut milk added is the secret for a more fatty, scented and viscid hotpot sauce. Red chili and chopped citronella are dispensable parts for a fragrant taste. Fresh fish meat, water crab meat, snails, eel, slices of pork, silver shrimp accompanied with various kinds of vegetables, such as eggplant, bitter melon, water dropwort, "dien dien" flower , bean sprouts, water lily, straw mushroom will be dipped into the boiled sauce until well-done. For this reason, "Lẩu mắm" is considered as one of the ideal dishes for vegetable-lovers.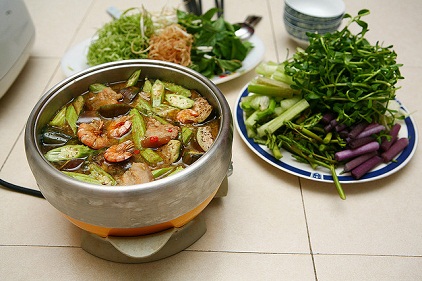 It has become a culture in Mekong Delta where everybody gathers around the table to enjoy hot pot and sip some rice wine. It's time for family members and friends have leisurely chat while waiting for the meat and veggies being cooked. The ingredients are put into the hot pot as many as the diners eat so that it takes from 1 hour to half day to eat.