Quai Vac cake has been existed for a long time and is sold along the streets in Phan Thiet. It is a rustic dish and delicious tasty.
The Phan Thiet known cake with an emphatic straps straps into cakes cauldron by local articulation. The gooey cake, with white and red, are stacked in a brass cover thoroughly by nylon upper class.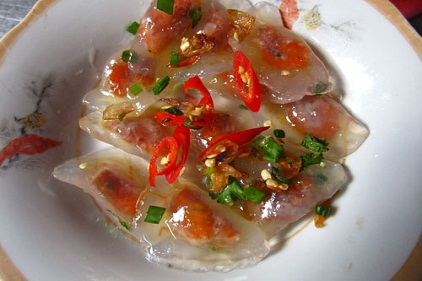 You can eat local, buy in to enjoy or even yourself at home. When home buyers, sellers will use a small fork, skewer into each pie to pull it up and put into the box, sprinkle over the top bit of chopped onion and pineapple. Attached to it was a bag of sauce is thoroughly column.
No one knows exactly cauldron cakes straps appear from when in Phan Thiet, just know that it is associated with local food and to eat here without straps cauldron cakes are still not fully explore the culinary culture.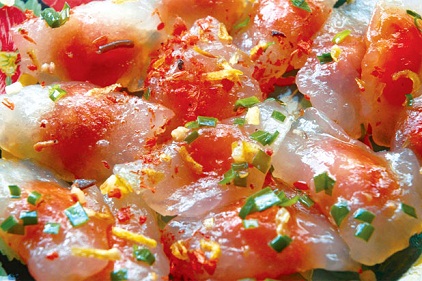 Cake was presented in the disc, with a few slices of lemon next to the cup with the golden onion. When eating, take the cake into bowls, sprinkle with the sauce, onion and a little lemon juice. Toughness of cauldron strap cake of Phan Thiet is making elements unique flavor. Guests will feel the sweet, tough, fatty, spicy, strong attractionThis dish can be eaten, but also buyers of eaten bread, the taste is very attractive. You can enjoy this on the street in Phan Thiet City, cost around 15,000 to 20,000 a box.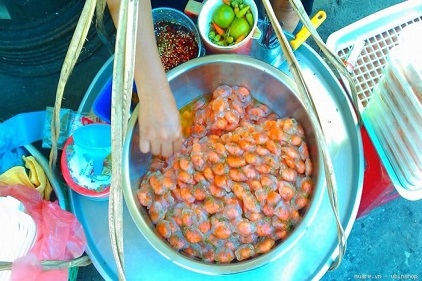 To make the cake, locals start with transparent wheat-flour dough, which is then boiled and wrapped around prawns, fatty pork, fish sauce and salt and sugar.
Cauldron strap cake can be seen as one of the items light meal flavor of the Central region. It uses refined wheat flour to make crust. Powder was stuffed for so clammy, then cut small pieces and use glass bottle forming laminated piece of dough shell clear. Corn is mainly fresh shrimp and bacon. The color pink shrimp pie, green fertile look of that new customers want to eat right now.