Visiting to Hue, visitors not only enjoy the stunning view of the Huong River but also have a chance to taste the best food in Hue is Com Hen ( Mussel Rice). Com Hen is very popular and low priced specialty dish but it's exquisite and wonderful texture and taste could not be kept hidden for long from those who crave for great food.
Com hen has a sweet-smelling flavor of rice, onion, as well as strange tastes of sweet, buttery, salty, sour, and peppery-hot. This special kind of food is of great ancience, simplicity and deliciousness. Hence it is always attractive to many foreign tourists when visiting Hue, the ancient citadel of Vietnam.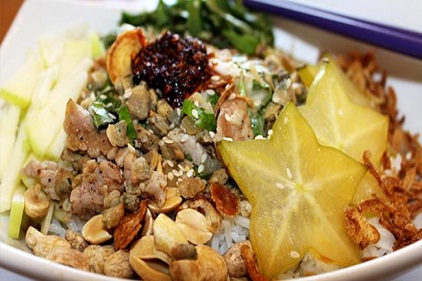 It is a complicated recipe with fifteen different raw materials to prepare for the dish, including mussel, watery grease, fried grease, peanuts, white sesames, dry pancake, salted shredded meat, chilly sauce, banana trunk, banana flower, sour carambola, spice vegetables, peppermint, salad, etc. These ingredients culminate in a distinctive balance of sweetness.
What makes this simple kind of food popular is revealed in the great endeavor to adopt and process its main ingredient – mussel. Mussels are sea species, which must be dipped in water for a long while before being processed. Accordingly, people often say that mussel cooked rice somehow expresses the strenuous work of the maker.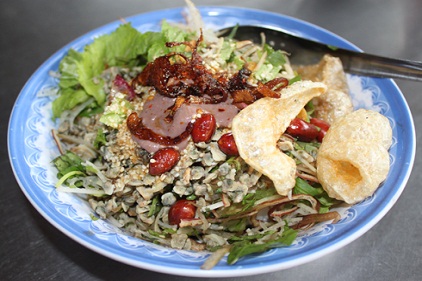 It is very easy as it is popular everywhere in Hue and these days, elsewhere in Hue restaurants in Vietnam. More favorably, it is a low-priced specially, thus you could eat it in luxurious restaurants in Hue or even in venturing mobile shops on the streets.