Hoi An food guide - top things to eat
Hoi An cuisine is very impressive by the diversified food and many specialties. The three days we spent there wasn't enough to discovery Hoi An cuisine, but we tried best to eat as much we could get our mouths on. Each restaurant and street food vendor specializes in specific dishes and you may find no menu available or prices listed anywhere.
This guide doesn't list everything I ate; it's everything I thought was unique and enjoyed eating and would recommend to anyone planning a visit to Hoi An. There are tons of things that I didn't get to try, such as cao lau (soba-like noodles with roasted pork) and com ga hoi an (chicken rice), which gives us a reason to revisit again in the future.
Banh can trung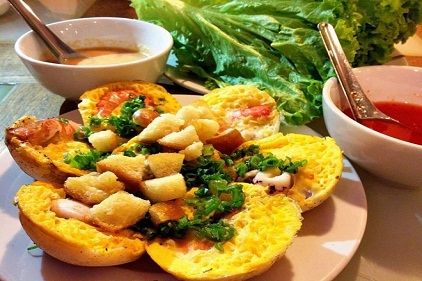 Our first sit-down street food meal in Hoi An was delicious and the most memorable moment for me. This little food stand setup is owned by a sweet and happy looking mother-daughter duo. I was drawn to the outdoor cooking action and the large silver bowl filled with fried goodness, so we went to take a look and they kindly welcomed us in.
Their specialty is banh can trung, which are small fried turmeric rice flour pancakes with an egg inside, served with pork sausage, grated papaya, herb vegetables and nuoc cham (fish sauce). Each banh can is fried in a mini muffin-like tray of aluminum or stainless steel to mold it into shape. It's served on a bed of herbs and lettuce, then topped with pickled grated papaya and a lovely sausage. This is one of my favorite dishes from our entire Vietnam trip because you get a bit of everything in one bite - crispy, savory, sweet and sour.
There are different variations of banh can trung throughout the country. I'm familiar with banh khot from the south side, which are thicker pancakes that have a coconut milk batter and shrimp filling.
Price: 10.000 vnd (~$0.50 cents a plate)
Location: Corner of Tran Phu and Hai Bai Trung
Xi ma (black sesame sweet pudding)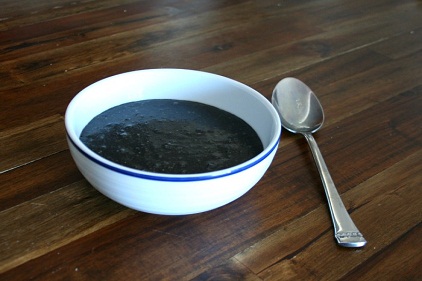 The locals call it xi ma (pronounced: see-MAH), but I know it as che me den. My mom made this a handful of times when I was a child, so I was already familiar with the taste. It may look unappetizing like dark gruel, but it's actually a black sesame pudding that's very warm, nutty and smooth. Xi ma is made with ground black sesame seeds, mixed with raw sugar, rau ma and local well water.
The place we went to has been operating for over 70 years using their own secret family recipe. It's owned and operated by the daughter of 100-year-old Mr. Ngo Thieu, a living legend of Hoi An. He's no longer able to run the business himself at his age, so his daughter is carrying on the tradition. They make just enough to sell out every day, so be sure to get there earlier rather than later.
Price: 5.000 vnd (~$0.25 cents a small bowl)
Location: Nguyen Truong To Street near Hoi An Centre for Orphans and Disabled Children from 7am each day.
Banh xeo (crispy savory crepes), tom cha gio (shrimp spring rolls), thit nuong (grilled pork), nem nuong (porksatay)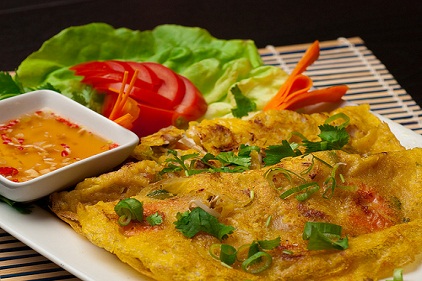 Ba Le Well Restaurant is a popular spot for both Hoi An locals and tourists alike. The menu is set and for 80.000 – 100.000 (~$4 to $5) per person for a hands on wrap-your-own rolls experience. This gets you a plate of banh xeo stuffed with bean sprouts and shrimp, shrimp spring rolls, grilled pork and pork satay, along with fresh herbs, pickled vegetables, rice paper and dipping sauce. The vegetables and herbs are all sourced from Tra Que Vegetable Village.
The banh xeo served in Central and Northern Vietnam are smaller and crispier compared to what I'm familiar with in the south, which is larger and mostly crispy along the edges. The crepe is made of rice flour and turmeric, and then filled with small shrimps and bean sprouts. You eat banh xeo by wrapping it like a spring roll with vegetables and rice paper, then dipping it into nuoc tuong, a sauce made with pork liver (and pieces of pork belly), hoisin sauce, and garlic. Holy sweet livers, I gulped the remaining sauce down like the world was about to end.
The shrimp spring rolls and pork skewers are eaten in the same style as a roll. The meal ends nicely with a mango flavored flan for dessert called kem flan xoai. This place is a great value and should not be missed.
Price: 80.000 – 100.000 vnd (~$4 to $5) per person for set menu
Location: 45/11 Tran Hung Dao Street
Banh my cha chien (pork toasts)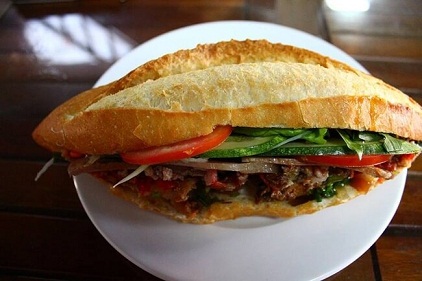 I wish I took a photo of the old lady selling this street snack because at first - and even second glance, you would never think she was even selling anything. There was no advertisement, just a lady carrying two metal buckets filled with fried pork bread. The ground pork is seasoned Vietnamese style with salt, sugar and garlic then turned into a paste and fried to perfection. I grew up eating shrimp toasts called banh mi tom chien, which are very similar to banh mi cha chien, so it was not only a tasty treat but a nostalgic experience for me.
Price: 7.000 vnd (~$.30)
Location: Find a lady carrying around two metal buckets and ask if she's selling banh mi cha chien (pronounced: banh-mee-cha-chi-ing).
White rose (banh bao, banh vac)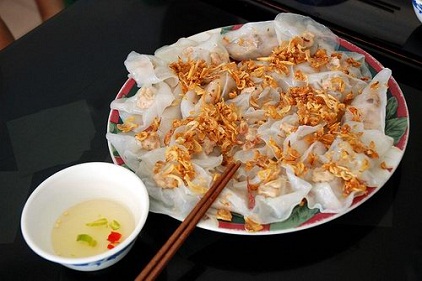 It takes three years to become an expert at making banh bao and banh vac, two types of shrimp dumplings made from translucent white dough bunched up to look like a rose. White rose dumplings have become ubiquitous symbols of food in this ancient town. There is only one family in Hoi An that produces these dumplings and distributes them to all the local eateries.
The process of making white rose dumplings is extremely tedious and requires meticulous hand techniques. To make the bright white dough, rice is milled, turned into rice flour and mixed with alkaline water from a local well that's filtered up to 20 times. The dough is shaped by hand into a thin scallop to be filled with shrimp, minced pork, mushrooms, bean sprouts and onions. It is then steamed and served together, topped with crispy fried shallots and nuoc cham (fish dipping sauce).
The ladies at the shop taught us how to make the dumplings and it was really hard. The dumplings pictured above are made by Patrick and I, which is why our dumplings don't look the prettiest. Regardless, it was still really, really good.
Price: 90.000 vnd (~$4 to $5) per person for plate
Location: 533 Hai Ba Trung Street
Banh dap (smashing rice paper)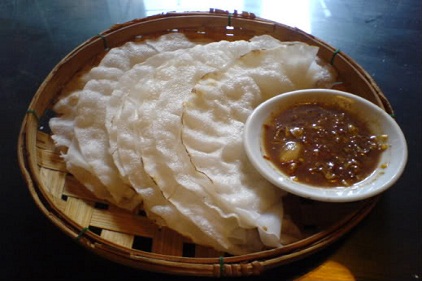 We walked over to Cam Nam Village, a bridge away from Hoi An's Old Quarter, to explore the local rustic food specialties of the area and we see a lane of restaurants that follow a beautiful tranquil river lined with starfruit trees.
The most common local dishes in the area are banh dap (smashing rice paper), hen xuc banh trang (clams with crispy rice paper) and che bap (sweet corn soup).
The way you eat banh dap is to smash the rice paper, hence the translation "smashing rice paper". Banh dap is two pieces of crispy rice paper and wet rice paper (a close relative of banh cuon), combined together and smashed on the table. It's meant to be eaten in pieces then dipped into a bowl of sweet fermented fish sauce and chili called mam nem (my favorite). The sauce is made from fish that is sourced locally from Cua Dai Beach.
Price: 8.000 vnd ($.40)
Hen xuc banh trang (minced clams)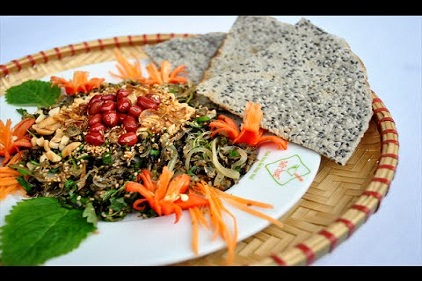 Clams are fished from Hoai River, which runs through Cam Nam village, to make this special dish (photo above). The clams are boiled and then fried with herbs, onions, spring onions, chili, ginger and peanuts. The clams were tiny, fresh, and meaty. The herbs were fragrant and added in an extra depth of flavor. It was one of my favorite dishes in Hoi An.
Price: 20.000 vnd ($1)
Che bap (sweet corn soup)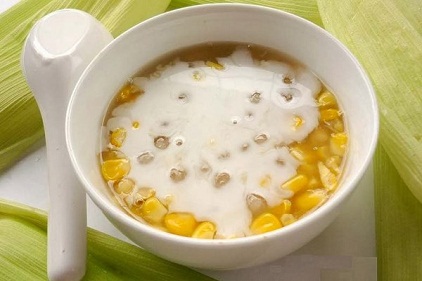 I've loved this dessert since I was a kid and the texture is fun to eat. Che bap is a sweet and sticky dessert made with shaved kernels of corn sourced from the village and sweet glutinous rice. It can be enjoyed at warm, cold or at room temperature.
Price: 5.000 vnd ($.25)
Location: You can find all three items at Ba Gia Restaurant, Nguyen Tri Phuong Street
See more