Food Tour in Hanoi
Caroline Eubanks is the blogger behind Caroline in the City and a freelance writer. She had a great time in Vietnam and She said that: "When I went to the travel, doctor to get shots for my trip to Asia, she specifically told me that I wasn't to eat anything from street vendors or anything I hadn't seen cooked. I smiled at her and then mentally laughed. How could I possibly go to Asia without trying any street food? I'd already been forewarned of all the soups from my friend Jodi. And while I've loved the food in Thailand and Cambodia, I can now admit that it's Vietnam that's stolen my heart (and belly)."
She started her Vietnam food journey than landing in the middle of Hanoi's noise and pace. On her second day in Hanoi, she joined up with Urban Adventures' Hanoi Street Food By Night tour, which brought her to the best spots in town for authentic, local eats. She sampled all sorts of delights (showcased below) and saw the markets where vendors buy their ingredients. She highly recommend this tour for those first arriving in Vietnam as a primer for all future meals.
Banh my, Dong Xuan Market
Her tour started at the market, where they were immediately handed mini baguettes, known as bahn my, filled with cucumber, fried onions and pork floss. It was a small but filling few bites to whet our appetites.
Surprise pancake with beef and mushrooms (banh cuon), Banh Cuon Gia Truyen Thanh Van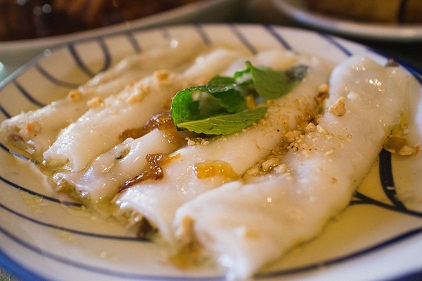 After sampling a few orders of rice pancakes filled with meat and mushrooms topped in crispy onions and dipping them in an oil made from cicadas, we watched them being made. The thin pancakes are formed, rolled, filled and on your table within a few minutes. She didn't fall in love with this dish as I did the others, but it was nice to try.
Chinese barbecue, Duong Thanh and Hang Bong streets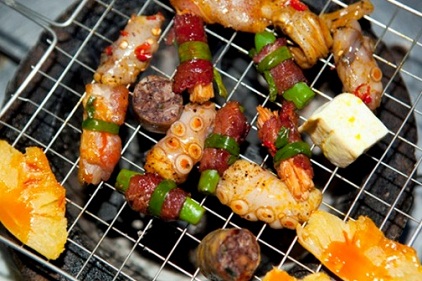 She had no idea what the name of this place was, but it sells t-shirts out front during the day and when 5 pm rolls around, transforms into one of the busiest corners in the Old Quarter. Here you pick a stool surrounding a small table with a burner. You pick a handful of items you want cooked and they bring it to you and place it in your warmer. She personally loved the beef and grilled honey bread. While some may question the authenticity of Chinese barbecue in Vietnam, there's an indisputable influence here.
Fruit salad with condensed milk, To Tich Street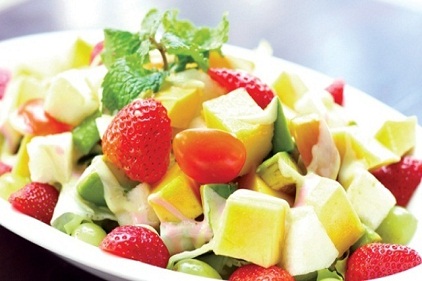 While she couldn't fully enjoy this dish since I gave up dairy a few months ago, she couldn't help but be fascinated by the bizarre combination of mango, papaya, watermelon, avocado, a Jello-type substance, all topped with sweetened condensed milk and coconut milk. It's dangerously sweet, but still refreshing.
Egg coffee, Cafe Phố Cổ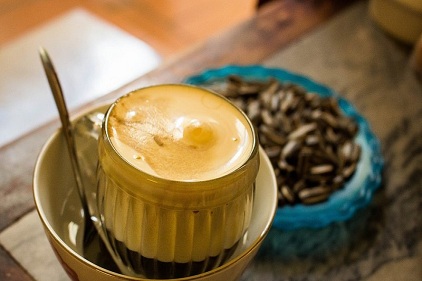 Our final stop on the tour was for rooftop egg coffee at Cafe Pho Co, which is at the top level of a house behind a t-shirt shop. Certainly hard to find, but worth the views of the lake. It was here that egg coffee was created during the bird flu as a way to offload the poultry products. The result was the bitter Vietnamese coffee topped in a creamy egg, making for something resembling chocolate milk. She was not a coffee drinker, as She had learned in Melbourne, but gladly would drink one of these again.
She also had great luck with the local restaurants recommended to me by the staff of my hotel, which led me to some places She never would have tried otherwise, where you sit down and are brought whatever the restaurant makes best.
Bun bo, Bun Bo Nam Bo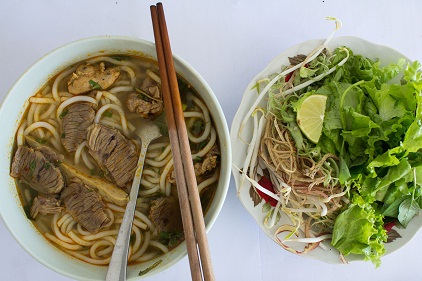 Conveniently located three doors down from our hotel, this was one of our first meals after arriving in Hanoi. The vermicelli noodles were topped in raw vegetables, fried onions, sprouts and beef. They were simultaneously sweet and salty in a uniquely Vietnamese way.
See more