Egg coffee (cà phê trứng) is a Vietnamese beverage which is traditionally prepared with egg yolks, sugar, condensed milk and Robusta coffee. The drink is made by beating egg yolks with sugar and coffee, then extracting the coffee into the half of the cup, followed by a similar amount of egg cream, which is prepared by heating and beating the yolks.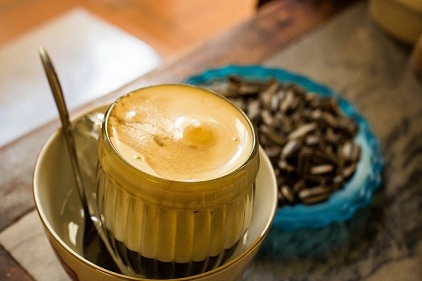 The first cup of egg coffee was made in early 20th century by Nguyen Van Giang. He used to be a bartender at the 5-star Sofitel Legend Metropole hotel under French domination. The great-grandfather Giang had turned the western Cappuccino into 'egg coffee' made of familiar ingredients.
A cup of egg coffee is usually a small and short cup, fit to a hand palm. Thus, you can just try an enough amount to taste the deliciousness but still make you have a fond remembrance and desire for more. The cup is served inside a bowl of hot water to retain its temperature. The marriage of the egg's rich taste and aromatic coffee wafting through the air makes up specific flavor. To drink egg coffee, people should slowly stir bobbed froth of whipped egg with the coffee below. Sweet and tasty of egg and milk are in harmony with bitterness of coffee and leaves behind the mesmerizing scent.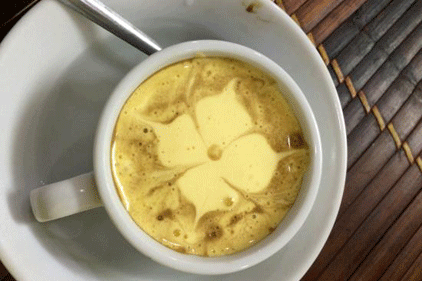 Egg coffee has appeared for a long time, but it is still a hot trend of cuisine in Hanoi till now. It is also a beautiful cultural feature of Hanoi. The recipe for egg coffee is very simple and it was published very soon. However the number of coffee shops making egg coffee successfully is very small.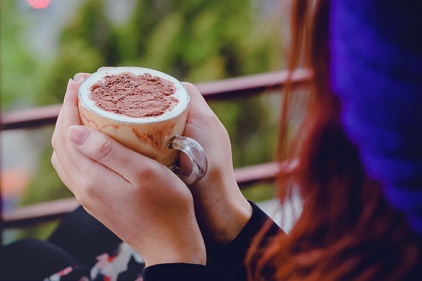 There are just a few famous addresses for egg coffee:
Giảng cafe: No.106 Yen Phu Street (near West Lake)
No.39 Nguyen Huu Huan Street (near the Old Quarter)
Đinh cafe: No.13 Dinh Tien Hoang Street (has lake view of the Sword Lake)