Quang noodle (Mỳ Quảng) is one of the most famous specialties of Hoi An food. This dish's ingredients include rice, vegetables and met but the way of cooking and how to mix them together are the mystery of each restaurant.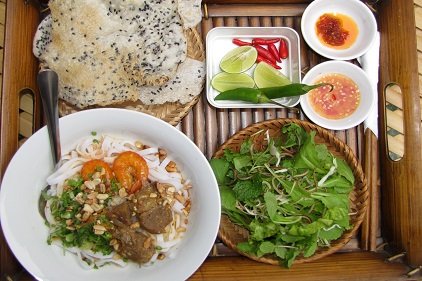 After being soaked in water, the rice is ground to a fine powder and made into attractive smooth white noodles. You can use pork, chicken, fish, crab or shrimp to make the broth. If chicken is chosen, the meat is separated, seasoned and stir-fried while the bones are stewed. Finish the stock by adding cooked chicken meat. The noodles are yellow, somewhat distinct from Pho. However, the main reason for having this color is to be in harmony with the colors of shrimps and crabs. There are also noodles for vegetarians also.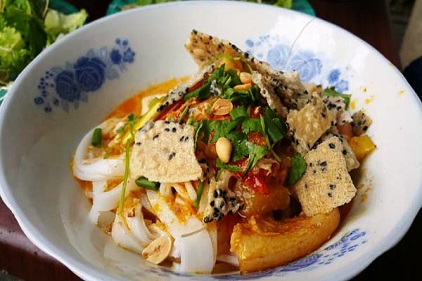 The mystery of the Quang noodle is in the pot of Quang noodle sauce. This makes the stock slightly sweet and a smidgen spicy. Unlike these noodle soups, mì Quảng is served with very little broth and almost like a dry noodle dish or noodle salad with the broth serving to bring all the flavors together.. Quang soft noodle soup tastes best when being served with vegetables such as water morning-glory, cress, young banana flowers and herbs grown in the famous Tra Que savory of Quang Nam Province to give the dish more flavor. What makes Quang noodle soups unique is the richness of the broth, the lack of it and the crushed peanut toppings on the noodles.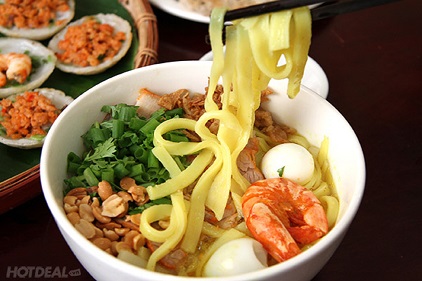 Quang Noodle is often added by chili to make to burning bow but it really depends on your personal taste. However, whether you can eat chili or not, My Quang is obviously a good choice for any traveler when they feel hungry after a long walk around Hoi An town.