Sawfish hot pot has been considered as a famous specialty and represented for Vung Tau cuisine. Sawfish is very delicious and strange that makes tourist can't forget if they have a chance to enjoy this dish once time.
Sawfish hot pot is one of must-try food once you visit here. As boneless fish and only soft cartilage, sawfish is quite popular and cooked in many different ways like grill, stir-fry, or hot pot, yet hot pot is still the best. Sawfish is prepared carefully, and its intestines rinsed thoroughly and then soaked in salt water or alcohol to remove fishiness.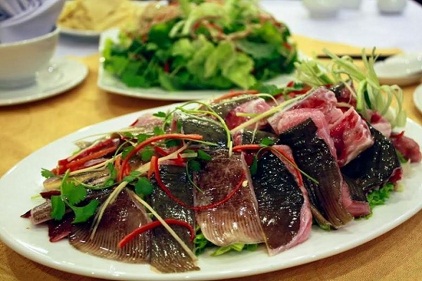 Fish will be chopped into medium pieces, cartilage chopped into small pieces as well, then we stew them with low heat in order to have the sweet broth. After that, add some spices to be well-seasoned: some tamarind juice, sour bamboo shoots, cilantro and coriander finely chopped.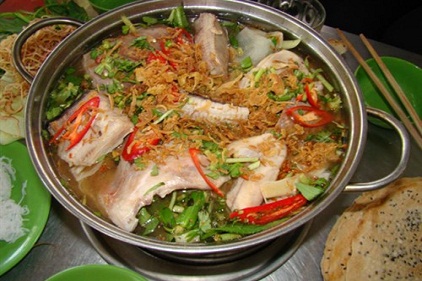 The hot pot is often served with fresh bun (a kind of Vietnamese noodle), green banana, flowers of banana tree, and a small bowl of fish sauce with some slices of chili. Sawfish hot pot has its unique taste: sourness and lightness of tamarind and young bamboo shoots, sweetness from pieces of chewy saw fish and crispiness from cartilage. All these taste will absolutely please diners when trying this dish.