Unlike bun mam, bun bo or bun cha, etc., bun bo cay in Bac Lieu has an unique taste and special hot chili. The method of cooking bun bo cay is still a secret of Bac Lieu's people.
The dish, although simple and bucolic, doesn't easy to cook and requires some expert techniques to pull it off. The smoky bowl of noodle, with the dark and thick broth, is served with basil, lemon, and a plate of chili salt. Eating the spicy beef for breakfast, you will definitely be rocked by the bold yet delicious flavors.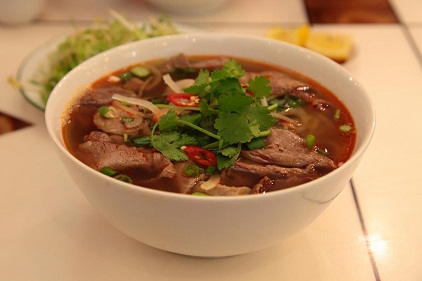 The dish is similar to bo kho (beef stew) but the recipe is simpler. Different kinds of beef such as lean beef or beef tendon are cooked with sate, a condiment comprising roasted ground chili and garlic. Fresh chili can also be added, giving the dish an inviting bright red color.
The tender cooked beef is served with bun (rice vermicelli). But unlike bo kho, bun bo cay does not include carrot, potato, sweet potato or onion. The flavor is enhanced with a sauce made from pounded unrefined salt, fresh chili and lemon juice.
The spiciness from chili and the sourness from lemon combine with the beef to give the dish a distinct flavor. The delicacy can be eaten with several kinds of seasoning herbs and aficionados say bun bo cay tastes best when served hot.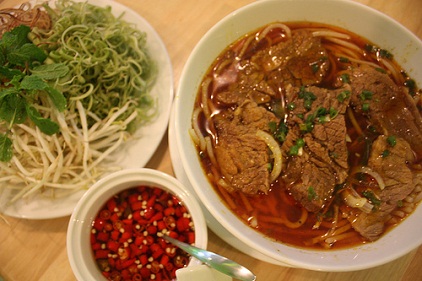 The spices and the heat make diners perspire profusely, which enthusiasts say is beneficial to health.
The pungent taste of sate makes the dish unique in Bac Lieu and all over the Mekong Delta, where people do not usually fancy spicy food, unlike those living in the central region.