Top 7 Vietnamese sweet desserts
"Chè" is a general Vietnamese word to describe any traditional Vietnamese sweet beverage, which is usually available in the form of pudding, or as a plain drink. It tends to incorporate fruit, vegetables, beans, seeds, glutinous rice and tapioca powder, and is often topped with coconut milk. There are so many varieties of "chè" to make a list, but here are the 7 tastiest desserts that can you shouldn't miss when visiting Vietnam
Chè Chuối – Banana with Sago Pearls and Coconut Milk Sweet Soup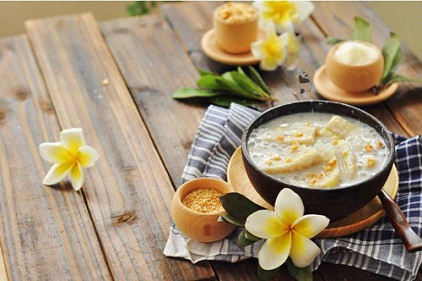 Form: Condensed Soup
Serve: Warm
Price Range: 8,000- 10,000 VND/ serving (approx. $0.36- $0.45)
"Chè chuối" is a delicious daily sweet dessert made from a type of flavorful banana called "chuối xiêm". Cooked in coconut milk with sago pearls, "chè chuối" has a sweet and creamy flavor, a delicate banana scent, and looks like pudding. A little bit of roasted peanut topping counterbalances "Chè chuối"'s creamy flavor, and adds a splash of color to the dessert.
Chè Trôi Nước – Sweet Glutinous Rice Dumplings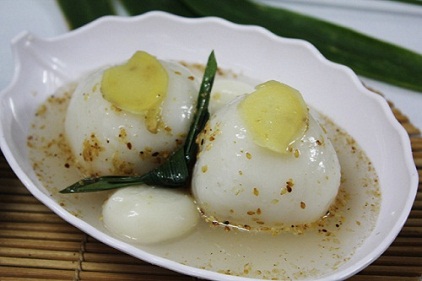 Form: Condensed Soup
Serve: Warm
Price Range: 8,000- 10,000 VND/ serving (approx. $0.36- $0.45)
"Chè trôi nước" is a kind of glutinous rice dumpling, filled with mung bean paste and cooked in sweet ginger syrup. This dessert's name literally means "floating on water" because when boiled, the balls rise from the bottom of the pot to the soup's surface. "Chè trôi nước" are served hot, topped with white sesame and occasionally with some coconut milk. Because of the meaning of its name, which can be loosely translated to 'fulfillment', "chè trôi nước" is often eaten on the first birthday of a child, and during other traditional holidays. Its texture is similar to Japanese mochi and Chinese tangyuan, because of the chewy and gummy rice, which covers the soft and savory mung bean paste underneath. The golden gooey syrup adds a sweet flavor and an aromatic ginger fragrance to the super-delicious sweet soup!
Chè Bắp – Vietnamese Sweet Corn Pudding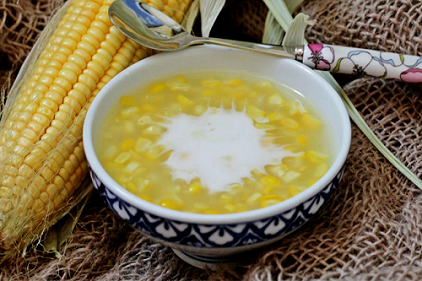 Form: Pudding
Serve: Warm or Cold
Price Range: 8,000- 10,000 VND/ serving (approx. $0.36- $0.45)
"Chè bắp" is a typical Vietnamese pudding, or dessert soup, made with sweet corn, glutinous rice, and is often topped with thick, syrupy coconut milk and toasted sesame seeds. It can be eaten warm or cold, as a snack, at any hour of the day! The natural sweetness of corn combines with the creamy coconut milk in a chewy texture of glutinous rice, a combination that makes for a very lovely summer treat.
Chè Ba Màu – Three Color Dessert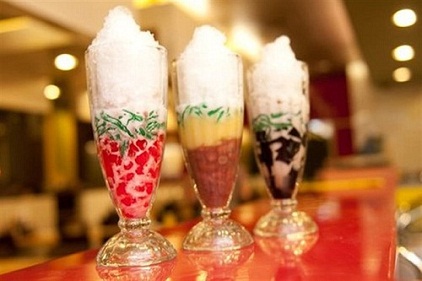 Form: Drink
Serve: Cold
Price Range: 8,000- 10,000 VND/ serving (approx. $0.36- $0.45)
Literally translated as "the three color dessert", the main ingredients of "chè ba màu" include three types of colored beans and jelly, covered with slightly sweetened coconut milk. Kidney beans, mung bean paste and green jelly are all commonly used to create the red, yellow and green color of this snack. These yummy desserts are usually served in colorful layers, and then mixed up when eaten. "chè ba màu" is quite popular in Vietnam because of its pretty look and its sweet, refreshing taste. There is nothing more enjoyable on a summer day than enjoying a glass of a vibrantly colorful dessert! "Chè ba màu" is quite popular in Vietnam and can be found in most Vietnamese restaurants, street vendors and dessert shops.
Chè Long Nhãn Hạt Sen – Logan and Lotus Seed Sweet Soup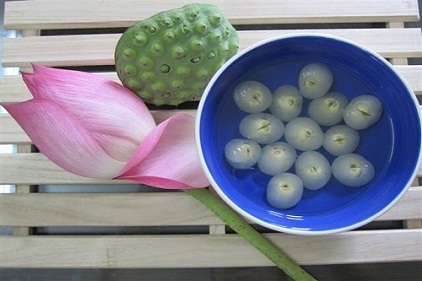 Form: Drink
Serve: Warm or Cold
Price Range: 10,000- 15,000 VND/ serving (approx. $0.45- $0.68)
"Chè long nhãn hạt sen" was started in Hue, the former capital of Vietnam. Its pure look, along with its light sweet taste and numerous healt benefits, has made "chè long nhãn hạt sen" one of the most popular dessert amongs locals. Preparing the dessert is not very difficult, but it requires plenty of care and patience. At first, you have to remove the seeds from ripe longan fruit, using a sharp-pointed knife. This needs to be done gently, in order to avoid tearing any of the longan's flesh. Then you have to fill them with lotus seeds, and cook them with some sugar. You'll fall in love with the thick juicy longan, the soft, aromatic lotus seeds and the wonderfully refreshing sweet soup. People in Southern Vietnam tend to make this dessert with dried longan as the dried fruit can be found all year round.
Many people enjoy this dessert cold with ice and some drops of grapefruit flower oil, but it is also delicious when served warm, or at room temperature. It is believed that consuming this dessert frequently will help you calm your nerves, reduce your stress and fatigue levels, and it may also improve your quality of sleep.
Chè Sương Sa Hạt Lựu – Rainbow Dessert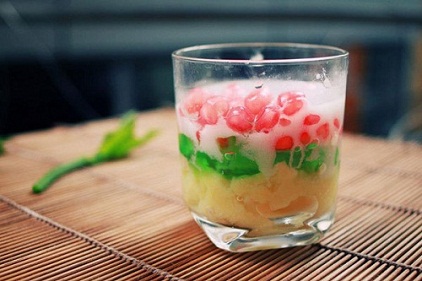 Form: Drink
Serve: Cold
Price Range: 10,000- 15,000 VND/ serving (approx. $0.45- $0.68)
Made from agar jelly, mock pomegranate seeds, mung bean paste and coconut milk, "chè sương sa hạt lựu" will not only refresh your body, but will also provide you with a good source of energy, to help you beat the relentlessly hot and humid summer days in Vietnam. Mock pomegranate seeds are vividly-colored seeds, made of water chestnut, diced into small cubes and coated with tapioca scratch. Eating these pomegranate seeds is very fun, as they're crunchy inside but chewy on the outside thanks to the tapioca cover. Agar jelly, on the other hand, brings you a fresher feeling. It's cool, slightly sweet and crunchy and soft, and it blends perfectly with the smooth, creamy coconut milk. Agar contains no sugar, no fat, no carbohydrates and is very high in fiber.
Chè Bà Ba – Sweet potato, Taro and Cassava Dessert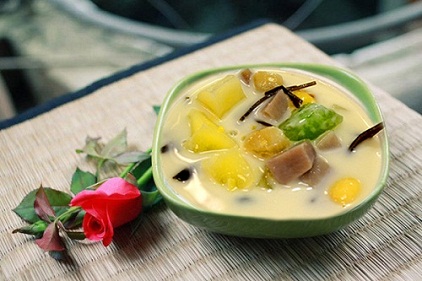 Form: Condensed Soup
Serve: Warm or Cold
Price Range: 8,000- 10,000 VND/ serving (approx. $0.36- $0.45)
"Chè bà ba" is a typical Southern Vietnamese dessert, which contains a variety of ingredients. This delicious dessert is made with square pieces of taro, cassava and long sweet potato, well cooked in coconut milk, and decorated with translucent tapioca pearls. Its creamy flavor and lingering sweetness make "chè bà ba" a wonderful snack for both hot and cold days! This already delicious dessert can become even more flavorful, when topped with roasted sesame or minced peanuts.
You can find these Che desserts at "Chè 75" – 75 Tran Huy Lieu Street, Ward 12, Phu Nhuan District, Ho Chi Minh City, Vietnam.
See more